Students spend a lot of time studying (or at least they should be!). Whether it is revising, writing assignments, rewatching lectures or making notes, it's a lot of hours a week to be spending sat in a bedroom which you also spend a further 6 + hours in a night. It is healthy to change up your environment to refresh your brain, get some air and stimulate the mind, but different students and learner types benefit from different styles of study spaces.
As a kinaesthetic learner (you can find out which type of learner you are here), I enjoy and benefit from studying in spaces where there is action going on. My favourite types of study spots are coffee shops because when my mind gets too overwhelmed by content and deadlines, I can zone out for a moment and people watch. Seeing strangers sip on coffees and teas while they chat about their lives that are completely separate from mine reminds me that my stresses are not as daunting as they seem, and that life is happening around me as normal.
Café Nero, Winchester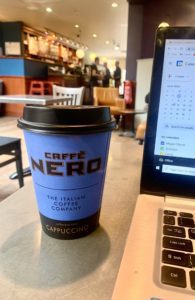 Café Nero is my favourite café to study at in Winchester. I usually have a list in my head of requirements which I expect from a café in order to study successfully, and I have noted some key factors about Café Nero, Winchester which make it enjoyable for me.
These are :
A wide variety of accessible plugs
Comfortable chairs with a suitable height table
Yummy (and affordable) coffee
Free soya milk option
A coffee loyalty card
Open until 7pm
Never too busy (from my experience)

Bonus: It's also a great place to go for group study sessions with friends as you can talk without disrupting the studying of others.
West Downs Library, Winchester
When I require less hustle and bustle to get work done, I head to West Downs Library. With the building only being completed during 2020, its modern and simplistic style creates a clean and relaxing environment which soothes my mind and melts away my stresses.
My favourite aspects of West Downs Library as a study spot include: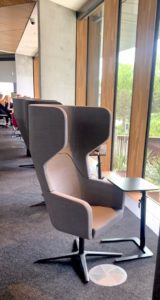 A wide variety of seating styles. From shared sofas and desks to closed off swivel chairs and booths, the library accommodates for groups and individuals. I enjoy being able to change up my study spot within the space I'm in, depending on how sociable I'm feeling.
A library without the *library* vibe. My experience of studying in libraries in the past has not been the most enjoyable. I've always detested the lack of natural lighting, with the office style desks and musty smell. Old libraries are great because you can enjoy the architecture and they have that old book smell, but modern libraries such as Martial Rose often feel clinical and block my creative flow. This is why West Downs stands out to me, it is a modern library, without this vibe as its large windows create a fresh and glowing space to enjoy. At night there is an enjoyable ambience as the city lights reflect against the windows and the West Downs Centre lights up in elegant neon tones.
Another great aspect of the library as a study space is that of course there are all the resources any student would need to complete an assignment. Two floors of books, a printer and even a coffee machine and snacks!
Learning Café, University of Winchester
I often visit the Learning Café in-between lectures. It's one of those sweet spots on campus, which is never too busy, but has everything I need to get through some emails/submit an assignment etc.
These include: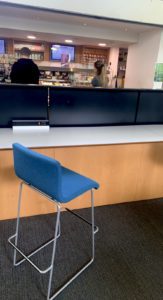 Similar to West Downs Library, it has got a variety of seating styles depending on whether you're studying alone or in company, and its also got its own printing station.
The addition of the recent bar opposite the café is ideal for independent study which is equipped with enough plug sockets to support an army.
My favourite part is of course the coffee, and I can even grab a cheeky panini when I inevitably get hungry from exhausting my brain.
The location is ideal, as I can get to lectures in minutes, meaning I get to maximise my time studying without having to walk too far.
The Bean Bags, Martial Rose Library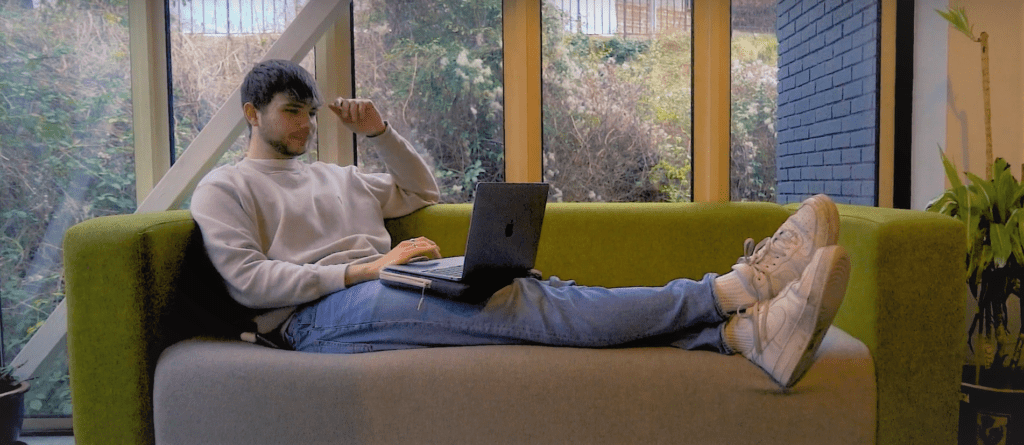 Okay so I know I criticised Marital Rose Library earlier, but this spot in particular is one of my most favourite and surprisingly quiet places on campus to get work done.
Just halfway down the stairs on the right of the building, you will find these comfortable bean bags and lengthy sofa to chill out and study in a way that is as relaxing as you can get without being in your bed.
There are a number of plugs, so you can get comfy while rewatching your lectures while taking notes on your phone with Jamworks.
There is a lot of natural lighting due to the large windows that corner the building. In fact, it's one of the only spots in Martial Rose which actually has an abundance of natural lighting at all, so its really the best place to be.
Similar to the Learning Café, its on campus so its quick and easy to get to and from lectures, and also has access to everything that a library can offer.
So, these are my favourite study spots in Winchester. I would recommend having a think about what your study requirements are, in order to find out which style of study spots/environments will suit you best, and make sure to check mine out if these facilities appeal to you!
Start taking better notes today with Jamworks – click here to get started.