Disabled Students' Allowance is a non-repayable grant issued by the government to disabled and neurodivergent students whose learning and studies are directly impacted by their condition or disability. ADHD is classed as a disability in the UK so is therefore a condition which is eligible for DSA funding. If you are a student with ADHD, there are multiple forms of support you can receive through the programme that can help to eliminate barriers to your learning and level the playing field academically. Let's have a look at the opportunities available to you and how you can get started with accessing your study support.
Obtain an ADHD Diagnosis
Before you start looking at what you can be offered by DSA for your condition, you must first have an official diagnosis. You can get started with this by booking an appointment with an ADHD specialist or psychiatrist.
Identify which type of ADHD you have
The type of ADHD you have can determine what forms of support will be most beneficial for you as a student.
Primarily Hyperactive and Impulsive ADHD is a type which causes symptoms such as hyperactivity and impulsivity. Students with this ADHD type can experience symptoms such as restlessness, excessive talking and lack a sense of danger.
In contrast, Primarily Inattentive Type ADHD causes symptoms such as a poor attention span and being easily distracted. Students with Inattentive Type ADHD often experience symptoms such as forgetfulness and poor memory recall.
Finally, students with a combined type ADHD diagnosis experience the symptoms of both hyperactive and impulsive type and inattentive type symptoms which can lead to an intense and challenging experience at university.
Now that you have more of an understanding and clarification on your diagnosis and ADHD type, let's have a look at how much DSA you can get for ADHD as a student at university.
How much DSA can I get for ADHD?
DSA is issued to students in the form of specialist software and equipment, non-medical helpers and study skills support as opposed to a direct payment such as the maintenance loan. The amount of DSA that a student with ADHD can expect to receive in relation to funding will vary depending on the severity of your condition and how significantly it impacts your learning. These factors are determined during the needs assessment which is scheduled following your DSA application being approved. The maximum amount of DSA allowance equivalent to funding you could potentially receive for ADHD is the following:
England: £25,575

Wales: £32,546
Northern Ireland: £25,000
The DSA process for students in Scotland differs slightly as they can expect to receive a maximum of £25,680 and this can be paid directly into their bank account along with receiving a list of what this funding should be used to purchase to aid their learning.
What forms of DSA are the most beneficial in supporting students with ADHD at university?
It's a good idea to prepare for your needs assessment beforehand so that when you arrive you have an idea of what you can ask your assessor for. In order to do this, I recommend having a think about all the ways in which your ADHD affects your ability to study and learn at university. An area of your learning which could be affected could include having a poor attention span and finding it difficult to stay focused while studying. If this is the case for you, and you have Primarily Inattentive Type ADHD then asking for study and note taking software such as a Jamworks Pro subscription will be a great form of support for your learning.
How does Jamworks support students with ADHD at university?
Jamworks is a form of assistive technology which uses AI to automatically capture the important information from your lectures and generates the content into multiple revision forms including a transcript, highlight audio clips, summaries, key points and flashcards. Students with ADHD who use Jamworks to take notes during their lectures experience reduced stress levels in class as they know that their notes are secured even if they struggle to focus on what is going on around them. Zoning out and becoming easily distracted are symptoms of ADHD which students can't control, but Jamworks gives you the option to review your lecture content at a time when your focus is more intact and at a pace that is more manageable for your individual needs.
Additional forms of DSA support for students with ADHD:
Specialist Equipment such as a laptop and printer can make study more accessible for students with ADHD as these can be used to access specialist study software. Noise cancelling headphones can be provided to help reduce background noise and distractions to improve attention levels and help students with ADHD to stay focused while studying. A power bank can be supplied to help students access study equipment in various environments and reduces the stress that comes with having a low laptop battery while trying to complete an assignment!
Non-medical helpers such as specialist mentors, assistive technology trainers and specialist one-to-one study skills trainers can support the learning of students with ADHD at university and help to break down aspects of study to a more manageable and understandable level.
It's helpful to have an idea of which of these forms of support you think will be helpful for you at university. However, during your needs assessment you will have the opportunity to ask further questions and your assessor can outline further support forms that they think suit your individual needs based on the assessment of your condition.
Where can I get support with my DSA application?
The DSA application can be a lengthy and detailed process and unfortunately there is limited information and resources available on the government website to assist students with the process. Luckily, you can join the Jamworks DSA Community, a free space packed with resources and opportunities to ask questions and request support during every stage of your DSA application journey. You can chat with DSA experts as well as students who are going through the process themselves to get tips and assistance with taking next steps towards receiving your study support.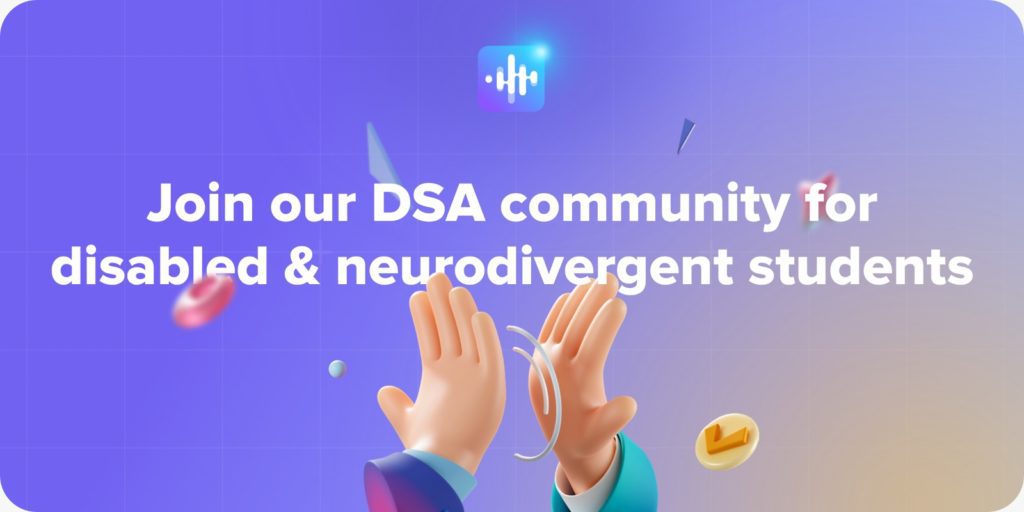 Students with ADHD can get free support with their DSA application process – Join the Jamworks DSA Community today!