If you're looking for Otter.ai alternatives to help students with effective note taking and learning, we've got the list for you. We'll be sharing best AI-powered transcription and note taking solutions for universities. 
Note taking is an essential study skill for all students. However, producing accurate and comprehensive notes for every lecture, meeting, and seminar can be difficult. Many students can benefit from time-saving note taking and transcription tools that allow them to focus on learning. 
While Otter.ai is a powerful note-taking solution, it has its limitations, especially for university students. That's why we've compiled a list of Otter.ai alternatives to help students take effective notes. 
What is Otter.ai?
Otter.ai is an audio-recording tool that generates live captions in real-time and provides summaries of each recording. Students can automatically join and record their lectures or meetings using Zoom, Microsoft Teams, and Google Meet. 
Key Features of Otter.ai for Students 
Automated transcription notes: Students can benefit from automated transcription, as the transcript can be used as a long but comprehensive study note. Students can highlight, comment, and insert images into their transcript during virtual meetings and lectures.
Lecture summaries and slide capture: Otter ensures students always have the right context by capturing and inserting lecture slides into their notes – but only from remote recordings. After a session, students can review an automatically generated recording summary that attempts to capture the key moments from the transcript.
Accessible and inclusive learning for all: Real-time transcription and live captioning can ensure students have access to a form of automated notes without stress. For those who may have difficulties with paying attention, multi-tasking, and effective note taking, Otter.ai can be a helpful note taking solution. 
Cons of Otter.ai For Students
Despite being a powerful transcription and note taking tool, Otter.ai does have some limitations for students in particular. 
Compatibility:

Otter.ai's slide capture feature is limited to Google Meets, Zoom, and Microsoft Teams. Students with in-person lectures, or those attending virtual sessions using other tools will be unable to benefit from Otter's slide capture feature.

Price:

Otter.ai is considerably more expensive than other tools on this list like Jamworks, which is half the price with twice as many features built for students.

Meeting focused tool:

Otter.ai is a hardworking meeting note taker and all of its features are designed for meetings. This means they can lack finesse and specificity when it comes to providing AI notes for students to learn and study from.

Audio-recording only:

For some lectures, video capture can provide a wider context that facilitates student learning. Audio recordings can be limited and may lack some context, even with the accompanying lecture slides.

Limited learning features:

Otter is a great tool for transcription and automated note taking. However, it lacks additional features to support students with their studies beyond their notes. Being able to transform those notes into study materials would help students create a seamless note taking and learning routine.
The Best Otter.ai Alternatives for University Students 
Jamworks
Jamworks is an AI-powered lecture recording and note taking tool designed specifically for students. This software uses AI to give students a personalised learning experience with interactive study materials. Students can benefit from comprehensive multimedia lecture notes and AI-generated revision resources.
Jamworks records all in-person and online lectures and automatically turns them into perfect text notes, audio chapters, flashcards and personalised AI tutors. It's the only all in one AI note taking and revision tool.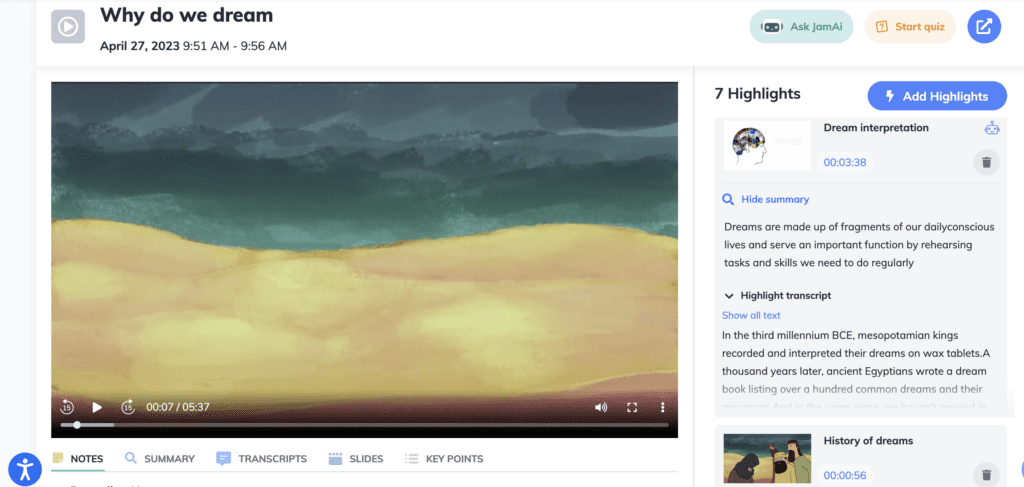 Key Features of Jamworks for Students 
Lecture recordings: Students can use Jamworks to record in-person or online lectures, meetings, and seminars. Jamworks can capture video content from a screen and audio both in-person or virtually. This software is compatible with all video conferencing softwares, including YouTube and Panopto, allowing students to learn from their lectures and other video resources. 
Automated note taking: Jamworks turns lectures into key highlights and topics using the power of AI. Students can review these highlights as audio chapters, bite-sized summaries, verbatim transcripts and captioned video snippets. They can add their own notes, files, and images to each highlight for future reference. Jamworks also creates a perfectly formatted set of comprehensive text notes under the 'Key Points' tab. These Key Points are ideal for those students who struggle to take effective notes to aid their studies.
AI-powered learning: Jamworks produces AI-powered summaries, interactive flashcards, and personalised tutor chatbots that are directly linked students' lecture content. There is no other note taking solution that does this. Students can start reviewing and revising their learning materials within moments. JamAI allows students to ask questions and explore their lecture content using a safe, wall-guarded AI. This personalised AI chatbot can simplify, explain, summarise, and expand upon lecture content to support students' learning. 
Accessible and inclusive learning: Jamworks is an assistive note taking tool designed to support all students, but especially those who identify as neurodivergent or disabled. Students can benefit from live captioning, and a range of customisation features to ensure an easy reading experience. This assistive technology also offers screen-reader compatibility, seizure-safe and vision-impaired profiles, keyboard navigation, and much more. 
Jamworks vs Otter.ai 
Jamworks is an ideal Otter.ai alternative for those looking for a transcription tool with dedicated learning features at a significantly lower per student cost. This personalised learning software builds upon Otter.ai's transcription and summarisation tools, with education specific features like formatted text notes, flashcards and AI chat bots to give students the complete accessible learning experience. Jamworks is compatible with a wider variety of platforms and allows students to record in-person lectures with screen captured slides.
Students can experience automated note-taking and live captioning using Jamworks, but can also benefit from additional learning features that make it the most powerful Otter alternative for students. From interactive flashcards to personalised AI tutor chatbots, Jamworks is priced at around 50% the cost of Otter, allowing more students to benefit from automated note taking.
For some students, transcription and automated note taking is essential for their learning. Jamworks was designed with accessibility in mind and gives students independence in both their note taking and revision. In the UK, students can get access to Jamworks through the DSA scheme. Institutions can also purchase Jamworks licenses to give their students access to this all-in-one note taking toolkit. 
Click here to get a quote for your university. License costs start at 50% of Otter's RRP with further discounts for bulk orders.
Fireflies.ai 
Fireflies is an impressive meeting recording tool with automatic transcription and AI-powered features. Students can take advantage of some of Fireflies' features to filter and search through multiple recordings using AI, but they may find the platform slightly overwhelming as the interface is not built for students.
Fireflies.ai for Students
Online lecture recording and file uploads: Fireflies can pair with a multitude of video conferencing platforms to capture on-screen video content and audio. Users also have the option to upload audio and video files to be transcribed and summarised with AI. 
Only used for online lectures: Fireflies.ai cannot be used to record in-person classes.
Simple note taking features: Students can annotate specific parts of their lecture recordings with notes. Like the other tools on this list, Fireflies also offers a flag feature to mark important content manually.
AI-powered search and metrics: Fireflies makes searching through lecture content easy by categorising content using AI filters. This is a cool meeting-focused feature that identifies key questions in a recording, that can be quite useful for students too. They can also search for content to find information from multiple recordings. 
Shareable content: Unlike Otter.ai, but in a similar vein to Jamworks, students can share their lecture recordings, transcripts, and soundbites of key highlights with others. This can help students collaborate during study sessions and facilitate group work. 
Fireflies.ai vs Otter.ai vs Jamworks
Unlike Otter.ai, Fireflies offers some powerful AI features for searching and analysing lecture content. This software pairs with more platforms than Otter, allowing students to capture both video and audio content. After a lecture, students have options for sharing soundbites or entire meetings, which isn't available with Otter. However, Otter offers live captions and real-time note taking that could be an essential feature for some students.
Students might also find Fireflies to be a complex tool with too many features designed for enterprise business teams and sales executives. Otter's simple automated note taking features may be a better fit, depending on the students' needs. 
When it comes to a purely educational note taking tool, Jamworks is still the clear winner. Jamworks' Key Points feature is unsurpassed when it comes to text notes to aid revision and the JamAI tutor is more suitable for learning than the Fireflies.ai chat bot AskFred, which is designed for analysing meetings.
Notta.ai 
Notta offers AI-powered transcriptions and summaries of both audio and video content. Students can record both online and in-person lectures with this software.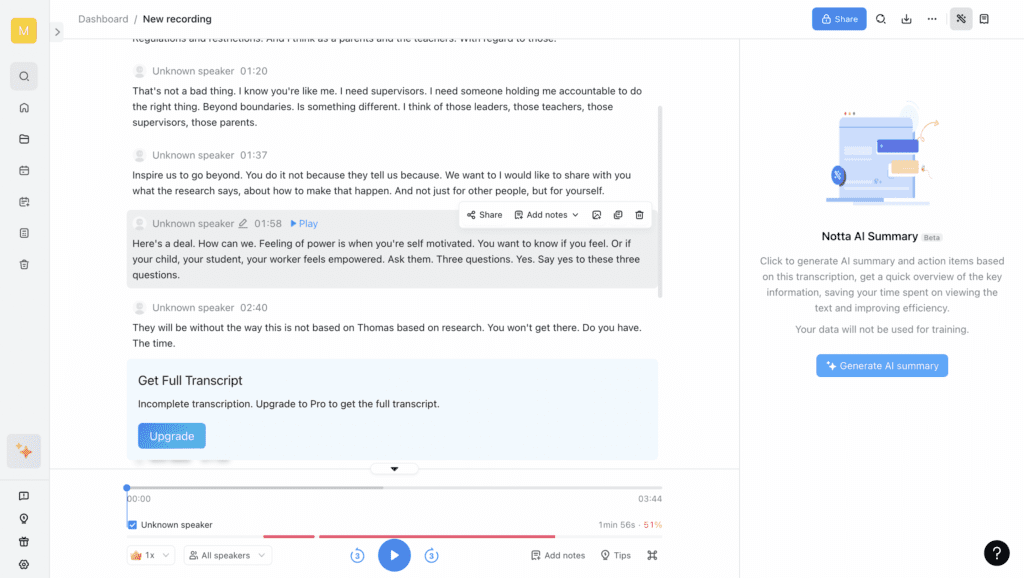 Features of Notta for Students
Lecture recordings and file imports: Notta allows students to generate transcripts and summaries from online or in-person lectures. Students can also import video and audio files for transcription, and capture screen recordings during online lectures. 
Live transcription for lectures: Students can follow along with live transcription that includes timestamps and autocorrection. They can also insert images, make edits, and mark up these transcript notes as needed. 
AI-powered summarisation: Notta generates AI summaries of the lecture. Students can quickly review their lecture materials without having to read through an entire transcript, although these summaries are formatted more appropriately for a meeting than study notes and there is no ability to generate further study materials like flashcards or personalised AI tutor chat bots like you can with Jamworks.
Notta.ai vs Otter.ai vs. Jamworks
Both Notta and Otter.ai are simple yet powerful tools for automated, real-time transcription. However, Notta is compatible with more video conferencing platforms, and can be used more extensively for in-person recordings. Students also have the option to import files for transcription and summarisation. Unlike Otter, students can capture both audio and video content, allowing them to have a wider context for their learning.
Notta.ai is significantly less expensive than Otter.ai, making it an ideal alternative for those wanting a simple tool for transcription. Notta.ai is priced around the same figure per student as Jamworks, but Notta lacks the study features like Key Points, flashcards and AI tutors that Jamworks provides to boost comprehension and help students get better grades.
In conclusion there are lots of decent AI meeting note takers on the market with transcription and summarisation features designed to assist business employees. But when it comes to Otter.ai alternatives for university students, nothing comes close to the value for money, accessibility provisions and education focussed features you get with Jamworks.
Want to see Jamworks in action? Click here to get a quote for your university today.