Whether you're about to start your first year of university or are a returning student applying for the first time, the DSA application can appear as a daunting process. However, without realising it you have already made the first step in accessing support, by deciding to apply! University is an experience which is not one-size-fits-all, and this includes the DSA application process. We have experienced first-hand that there is not nearly enough support and accommodations in place to help disabled and neurodivergent students through the DSA application process and this can hold students back from accessing the support they are entitled to.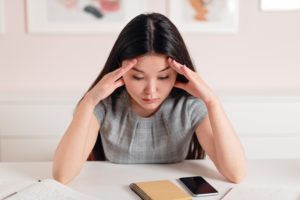 In order to apply for DSA, there are a number of factors which must be completed first in order to successfully progress to accessing support. The first is determining whether you are eligible to apply, and how to provide evidence of your disability or condition. 
The Government website unfortunately only provides a limited outline of information for this step which can create barriers for students who are unsure if they can apply for DSA. This can be hard if you have a condition and are not sure if it classes as a disability, such as ADHD or dyslexia. Additionally, there is no option to communicate directly with the DSA team available on the website to ask questions and access further details.
These limitations can lengthen and complicate the DSA application process, as well as deter some students from applying for the support they are entitled to due to lack of extensive information and clarification accessible. While the application process can be challenging, it is worth the time and effort to invest and can be made a lot easier and more accessible with personalised support from peers and loved ones.
One of the best ways to aid yourself in a challenging situation is to reach out to others for help and support. Working as a group is a great way to improve your DSA application process experience as you can communicate with others to share and access further information and resources. Disabled and neurodivergent students can learn from the questions and challenges that others are facing by applying to simplify their own experience and reduce stress levels in the process.
At Jamworks, we believe in the value of being the support for students through every step of their university journey, including the DSA application process. Our Jamworks DSA Community group on Discord is a place where you can access an extensive range of information relating to the DSA application process, the additional steps experienced following the needs assessment and even tips on how to use your offers effectively to maximise the support provided to you.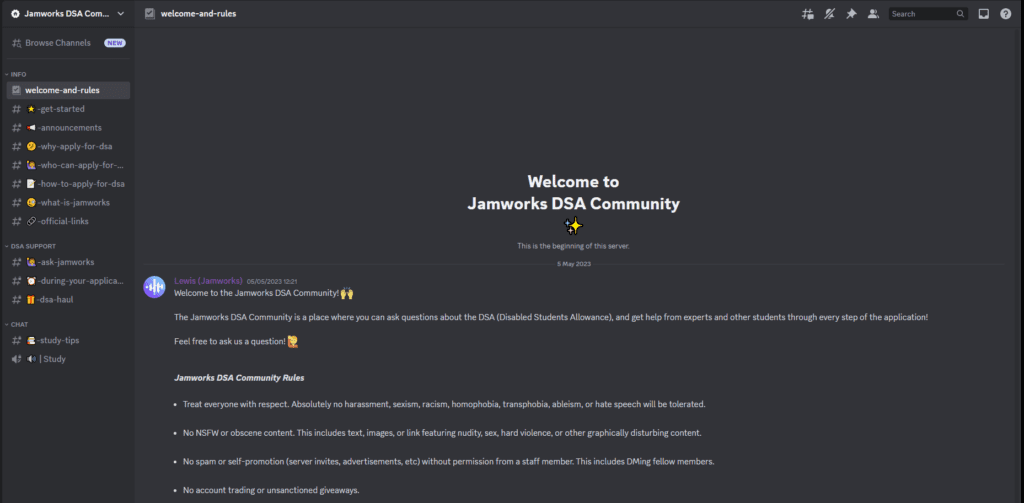 We know that working together and communicating is an effective way to improve and overcome challenging experiences such as the DSA application process, so the Jamworks DSA Community is a space where you can connect and converse with other disabled and neurodivergent students going through the same steps as you.
With the various channels available within the Discord server, you can easily access specific areas of what information you require, such as why you should apply, during your application, and the DSA haul itself. 
You can also help other students throughout all stages of your DSA application journey by answering others' questions, starting discussions and providing helpful tips you think others could benefit from as when we teach others we also learn ourselves. We want to make the DSA application process an easier, accessible and effective experience for students and becoming a part of the Jamworks DSA Community is the best way to do this.
What help can I get from Jamworks during the DSA application process?
Jamworks can provide you with many support services during your DSA application process through the Discord DSA Community group. Our Jamworks DSA experts can offer you one-to-one support through direct messages to answer your personal questions and offer tailored advice.
The Jamworks DSA Community group can provide you with access to engage with students who have already completed or started their DSA application who have insight into further steps of the process and can offer you advice and recommendations on what to ask for in your needs assessment and so on. Through the Discord group, Jamworks can also provide you with a more informative timeline of the DSA application process, informing you of how long to expect each stage to take.
As Jamworks is a DSA approved assistive technology software, the Jamworks team members work with DSA assessors and therefore can provide you with expert guidance on any aspect of the process you need support with. The team can also inform you of what forms of equipment and software you could expect to be offered based on your disability/condition.
And finally, if you're a student who is feeling nervous or overwhelmed by the thought of moving to university by yourself, the Jamworks DSA Community group serves as a perfect channel for you to socialise with other prospective students undertaking the DSA application process before and during freshers week.
How do I know if I am eligible to apply for DSA?
If you are a student with a disability, learning difficulty or long-term illness and can provide evidence of this diagnosis, you are eligible to apply for DSA.
Often when students hear about DSA they can assume that they are ineligible for support as they believe their condition or diagnosis is not severe enough, or that other students may need the support more than them.
The truth is that this support exists to help students with all eligible conditions to overcome the barriers they face during their time at university. 
Due to the needs assessment stage of the application process, all students will receive the correct levels of support they are entitled to, regardless of how many students are seeking DSA support so you should make the most of the help that is being offered to you in order to level the playing field and unlock your maximum potential.
A Jamworks Pro subscription is just one of the many assistive technology services available to students through the DSA application, and also one of several offers that engages with AI tools usch as revision quizzes for auto-generated study assistance. 
Other forms of support can include study skills training and mental health support and guidance, and these can prove beneficial especially at times where you may not realise you need the help. Many students can perform well at university without knowing that they are facing limitations in education, but we want students to have the option to excel by utilising the provisions available as support for their individual needs.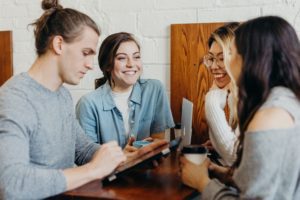 Your university journey can be a positive experience even if you do encounter some challenges along the way because these are opportunities to learn and adapt which can help you to develop skills for later life. The friends you will make and the conversations you will share amongst each other will be equally as valuable learning opportunities as the subjects you study in lectures. Developing networks and being a part of communities is what supports us long term as we can carry those relationships and connections on past your university days to further aid you to grow in the workplace.
Give yourself the best opportunity to succeed at university and enjoy the experience as part of a diverse and engaging community to grow and share memories with by joining the Jamworks DSA Community today! – Click here to get started.