Whether you have just started Uni, or are about to graduate, it is always beneficial to have an up-to-date CV and/or Portfolio at the ready to send to any connections that may come your way. University can be a very social experience, and one of the things I quickly became aware of during my first term is that lectuerers and even fellow students have links to people that could open many doors for you. It's okay to be unsure of what exactly you want to go into, but it is still important to have a file of your key skills, ideas and experience at the ready should any opportunities fall into your lap. So how do I make a resume that is going to stand out from the rest?
Make a list of your previous experience
Work experience does not have to be as formative as a job at Costa or Primark, so if you've had little to no retail or hospitality experience do not fret! I have found that most students have had around 1-2 part time jobs by the time they attend university, based on my own conversations with friends. The truth is, employers look at experience because they want to see opportunities where you may have developed the skills and knowledge they require an employee to have for the role. Whilst different employers will be looking for skills and experience which are relative to their sector,  there are a range of talents which the majority of employers expect to see across the board, so  you need to make sure to tick these off their list in a way that makes you stand out.
Any job in a social or group environment will want to see that you have previously worked as part of a team. They will want you to outline the skills you gained from working with others, as well as the challenges you were met with and how you overcame them/learned from them etc. You can refer back to a wide range of scenarios for this, such as playing as a member of a sports team, working on a project with classmates in school, any volunteering opportunities you engaged in.
Secondly, employers want a reliable candidate. Its easy to just say that you manage your time well, but they want proof of this. Ways in which to provide experience of time management that isnt just references from a part time job, is a reference from a teacher/lecturer where you had high attendance of their classes. Or you can outline how you may juggle both academic and personal tasks. Whatever experience you have had  that may link with this skill, utilise it!
No matter what job you are working in, problems are inevitably going to arise, just as they do in daily life. You may not have worked in hospitality, but you have most certainly faced many problematic scenarios in your lifetime. Pick one of these and add it to your experience list of how you have developed this skill.
ACTIVE & RESPECTFUL LISTENER
Employers expect staff to have an understanding of the importance of respecting colleagues and listening actively to tasks and discussions. Outline a situation where you developedd these skills such as when you may have undertook tasks from a parent or neighbour when they required your help.
I believe this to be one of the most important skills that employers look for in your work experience. They want to hire someone who is reliable, dependable and responsible. If you have younger siblings, it's ideal to outline situations where you were responsible for their wellbeing; did you have to babysit? Have you ever minded someone's pets, or been handling money? Showing that you can be counted on as a responsible person is a massive tick for any employer, so make sure to add this to your experience and skills.
Personal Interests – What is your Spark? 
Having the skills and experience necessary to perform well in a role is great, but one thing that is important to note is that we are not robots – we are people with emotions and passions and interests. One way to show this through your CV/Portfolio to help you stand out in the crowd is to show your spark and outline your personal interests and hobbies. This can include anything from playing a sport, writing, photography, reading, baking, or simply going to the gym. It doesnt have to link to the role you are applying for, but it helps to show employers that you prioritise your wellbeing as well as your profession, which makes you more of a well-rounded candidate.
Cover Letter
I believe adding a cover letter is beneficial in most cases when applying for a job as it helps to add some further details that employers most likely need to know.
What can you bring to the team?
Within your cover letter you can briefly outline what you could bring to the team, as this will put you in the spotlight as a candidate that is desireable and ticks the boxes for the role. Read the job description for the role you are applying for, and link back to the points that they mention a candidate needs to have, but in a subtle way that doesn't look like you've simply copy-and-pasted the brief.
Most companies have a section on their website which outlines their values and morals that they align with. It is beneficial to note these down and discuss in your cover letter that you would like to work for the company as your values and morals align with those of the company. Make sure to explain briefly why these are your values, for example "I pride myself on loyalty as I believe it helps to create stronger connections within a team. As you can see from my previous experience, I worked with X for a significant length of time and I enjoyed working in this environment as the loyalty created an honest and safe workplace."
Availability and Job Expectations
Within your cover letter it is ideal to outline your availablilty to the employer. I would put this within the first paragraph as it will stand out when someone is skimming over your application. Be transparent about your availability and what you want from the job; I have encountered problems in the past where I have over-committed myself to a job and said I was available for more hours/shifts than was probably realistic for my current situation and this has caused implications in my lifestyle as a result. It's tempting to want to be as available as possible, there's always that fear that they will pick someone else who has more availability than you. But at the end of the day, if the role is meant for you and you are the ideal candidate, your availabililty and expectations of the role will work out just fine.
Platforms to make CV or Portfolio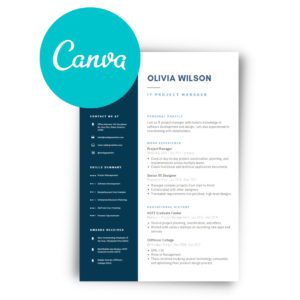 Okay, so we know now what needs to go in our new-and-improved CV and Portfolios, so where exactly do we make them? I highly reccomend using Microsoft Word, Google Docs or Canva when it comes to making these files. Most of these platforms have CV and Portfolio templates available, however if you choose to use a template I would suggest altering it significantly to make it your own – ie. change the fonts, some sizing and any colours. If you have used the same template as many other candidates, your CV/Portfolio is likely to blend into the pile of other documents and the unique content within it will go unnoticed. It is ideal to attempt to create these from scratch, and a CV should appear more stripped-back in terms of design, focus on laying out the sections in a readable and practical manner – ie. refrain from using cursive or artsy fonts and bold colours.
Why make a Portfolio over a CV?
A portfolio is ideal for candidates who are applying for roles in which they need to showcase work through either external links or visuals such as photography and art or design. CVs are ideal for clean, straightforward and direct content, whereas a portfolio enables you to showcase your creative side and format your work in a story-like setting. When it comes to the design of a portfolio, I encourage you to utilise a wider range of fonts, colours, images and elements, but make sure the content looks consistent and is readable and eye-catching. At the end of the day, the content on the page is the most important thing, and you do not want the design to distract from that.
Get a second (or even third) opinion
No matter how much or little goes into your resume, you want someone to read over it and give a non biased perspective to highlight areas which you may have overlooked such as grammar mistakes or design flaws.
Ask yourself:
What will make me stand out? 
What will convey a professional tone?
What is enticing to read?
And remember, rejection is inevitable, so don't get disheartened if it takes a while to find the right fit. There is a job out there for you and with the right content to showcase yourself now you are on the right path, so have faith in yourself and your abilities!